The Work Injury Compensation Act (WICA) provides injured employees with a low-cost and fast alternative to the Singapore's common law* to settle work compensation claims.
*Key Differences Between Claiming Compensation Under WICA versus Common Law
Work Injury Compensation Act
• No need to prove employer was at fault. Only need to show injury/disease was work related.
• Compensation is based on fixed formula and capped.
• Does not need a lawyer. MOM can advise and help the injured employee to file the claim at no cost. If there is any dispute, MOM facilitates its resolution.
Common Law
• Need to prove employer/3rd party was at fault.
• Compensation is not capped but amount of damages has to be substantiated before the Courts.
• Likely need to engage lawyers and lawyer fees will apply. MOM is unable to advise or help.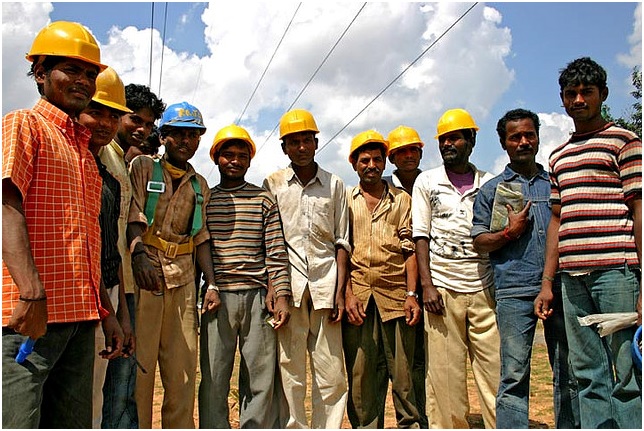 To claim under Work Injury Compensation Act, the employee only needs to prove that he was injured in a work accident or suffered a disease due to his work. Engaging a lawyer is not required to file a WICA claim. Under the Work Injury Compensation Act, the employer (or employer's insurer) is liable to pay the compensation regardless of who caused the accident/disease, and even after the employment has ceased or the Work Pass (of a foreign worker) has been cancelled. The amount of compensation is computed based on a fixed formula and is subject to caps (please refer to MOM's website). Dependents of deceased employees are also eligible to claim Work Injury Compensation.
Alternatively, the employee can file a civil suit under the common law against the negligent party for damages. However, to succeed, he and his lawyer will need to prove that the employer or a third party had caused his injury. He will also need to substantiate the amount of damages before the Courts, and damages, however are not capped.
An injured employee can claim from either WICA or common law, but not from both.
So now to the million dollar question:
Who needs to buy Work Injury Compensation Insurance?
Every employer is required by Singapore law to maintain adequate Work Injury Compensation (WIC) insurance for:
1. All employees doing manual work, regardless of salary level;
2. All employees doing non-manual work and earning $1,600 or less a month. (as at 01 April 2021, this amount has been raised to $2,600)-See image below: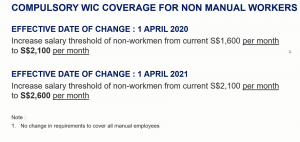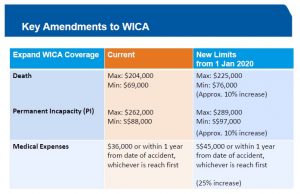 This is applicable to both local and foreign employees.
If you are done with WIC Insurance and need to buy the FWMI, goto this link.
Failure to comply is an offence punishable by a maximum fine of $10,000 and/or imprisonment of up to 12 months. If you did not maintain adequate insurance (e.g. you have 10 manual workers but bought insurance for only 8 of them), you would have committed an offence.
Details required for applying WIC insurance
Employers are required to provide the following information to the insurer during issuance or renewal of the Work Permit or S Pass:
UEN
Nature of business
Aggregated headcount of employees
Aggregated annual wages
Occupation of employees
Claims experience for the past 3 years (if applicable)
Most of the time, employers are always in a rush once they receive the IPA (In-Principle Approval) from the MOM for new workers. Simply provide us the copy of the IPA letter, together with a copy of the worker's passport  plus all the details listed above and we at your-insurance-guy.com will process the WIC or Work Injury Compensation insurance and the FWMI (if applicable) and revert with the policy number, so as to expedite on your new worker's work permit. So do not wait, contact us now, since 21 days is the new processing time!
Some important features to take note for employers buying WICA from 1 Jan 2021:
1. They must give a committed order to insurers to buy or renew WIC insurance policies 21 days before commencement of policy.
2. They must submit all the data required by the insurer 21 days before commencement of policy
3. Failure to comply with the above may result in employers being investigated by MOM and / or risk not having their worker's employment pass renewed, or even cancelled.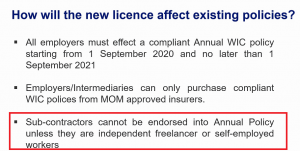 What is Considered as Wages?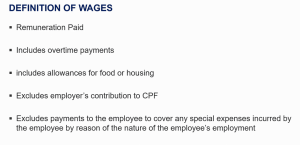 Why is MOM disallowing compensation for employees injured in work-related fights, particularly if the fight arose over a dispute over work-related matters?
Given that the Work Injury Compensation Act is a no-fault system, MOM needs to ensure that the burden of compensation placed on employers is not an unreasonable one. While work-related disputes between co-workers may arise from time to time, they should not resort to fights to resolve them, and employers should not have to bear the cost of injury.
With the amendment, employees injured in work-related fights will still be eligible for compensation, provided these injuries were sustained (i) in the act of self-defence, (ii) while defending another individual, (iii) while acting under the employer's/principal's instructions or consent to break up the fight, safeguard lives or property, or maintain law and order or (iv) as a result of an assault to which he did not retaliate. Only employees who deliberately participate in fights at the workplace – whether due to a dispute over work-related matters or not – and sustain injuries in the process are not eligible for work injury compensation.
Why is MOM deleting two Occupational Diseases, i.e. SARS and Avian Influenza, from the Second Schedule?
The Second Schedule lists occupational diseases that have a clear and well-established link to risk factors at work. Infectious diseases such as SARS and avian influenza can be readily contracted via community spread. Their link to work is not so clear, unlike the other diseases listed on the Second Schedule. However, should an employee contract SARS or avian flu arising from exposure at work, the amendment to allow the Work Injury Compensation Act for diseases contracted as a result of prolonged exposures to work-related hazards (i.e. biological and chemical agents) will still allow him to receive work injury compensation.
What recourse does an employee have if he commences a common law suit and realizes that he is unlikely to succeed in his common law claim?
Under WICA, injured employees have one year from the date of the accident to decide whether to pursue their claim under WICA or under common law. Employees may choose to revert to the Work Injury Compensation Act even after filing a claim under common law, as long as this is done within one year of the accident. Beyond that, if the common law suit was initiated within one year of the accident, and the accident is assessed to be compensable under WICA, the employee can request that the court assess the WICA compensation due the employee, minus costs, and direct the employer to pay compensation.
For further enquiries, FAQs can be found at the MOM's website here.
However, if you need immediate solution, please write to us NOW!
Back to the top of Work Injury Compensation Act