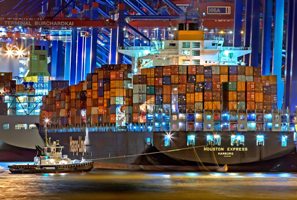 Cargo Insurance is an insurance cover against physical loss or damage to the subject matter (the cargo) during transit (by air, sea, land rail, parcel post and/or courier) caused by perils which the insured has agreed upon.

Some Terminology which normally pops up when you discuss Cargo Insurance :
Incoterms
Incoterms stand for International Commercial Terms; is a set of internationally recognised definitions of international trade terms developed by International Chamber of Commerce.
The Incoterms tell the parties involved (seller and buyer) what they need to do in respect of:
a) Carriage of goods from seller to buyer; and
b) Export and import clearance
It also clarifies the distribution of functions, costs and risk relating to the transfer of goods from seller to buyer.
Transit Clause
Transit Clause is actually the insurance protection during the duration of the voyage. It could be from warehouse to warehouse or as determined by the INCOTERMS.
The commencement of the insurance usually starts from the time the goods first move from the warehouse onto the carrying conveyance for the purpose of commencement of the transit.
AND
The termination of insurance is upon Delivery of 1 of the following:
a) On delivery at consignee's warehouse;
b) On delivery to place of storage elected for storage or for distribution;
c) Expiry of 60 days after completion of discharge from vessel.
WHICHEVER OCCURS FIRST.
TYPES OF CARGO INSURANCE
All risks cover as per Institute Cargo Clauses (A) or its equivalent for airfreight and inland transit modes of sending with named exclusions.
It covers the 'risk' loss and/ or damage that are:
i. 'accidental' and/ or
ii. 'fortuitous' in nature
or
b) Named Perils (restricted cover), such as
Institute Cargo Clauses (B) with named exclusions
Institute Cargo Clauses (C) with named exclusions

Institute Cargo Clauses (A) "All Risk" Cover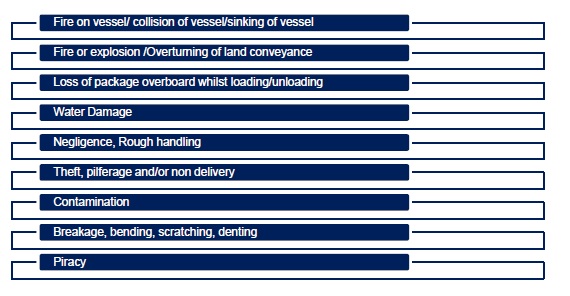 Special Concerns for the above cover:
a) Used, reconditioned, second-hand goods
b) Personal and Household Effects
The above will call for separate rating and terms and conditions.
For a) and b) above, there may be pre-existing damages and/or defects such as dents , scratches, chipping marring which were there before our risk commenced. This will normally be excluded in the cover.
For a), they may be of an age where in the event of a need for repair, there may not be any more spare parts.

Exclusions:
– Wilful misconduct of the Insured
– Ordinary/ Natural loss in weight and/ or volume
– Insufficiency and/ or improper packing or preparation
* 1982 clause – strict exclusion
* 2009 clause – excluded if packing done by insured and/or packing done prior to commence of risk
– Inherent vice or nature of the subject matter
– Delay – even if delay is caused by peril insured
– Insolvency or financial default of the operator of the vessel
* Provided the Insured is not aware or should in the ordinary course of business that the owners, managers, operators etc were in financial difficulty
* Cargo was bought and assigned to buyer in good faith.
– Seaworthiness and fitness of vessel/container

List of Sanction Countries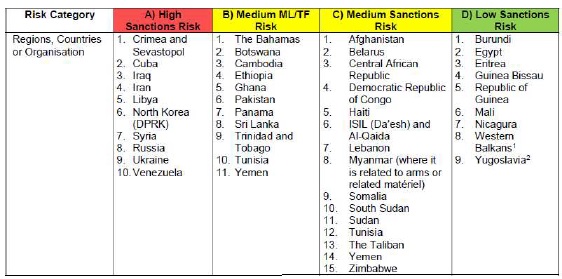 The part which you will like to know is probably What are the Underwriting Considerations?
Insured – Experience and Loss Record
Cargo – Type of cargo
Packing – Crates or Cartons, Drums, Bags, Bare
Mode of Shipment – Conventional or Container-ised
Bottom limit of Liability – Maximum sum insured per conveyance
Voyage – From where to where
Conveyance – Airfreight or Sea-freight
Estimated Annual turnover
OK, you are now armed with the knowledge of What is Cargo Insurance and if you are a trader of physical goods, it is definitely a MUST HAVE in order to get a good night sleep. Feel free to contact us for more details.

Back to the top of Cargo Insurance